Follow Your Favorites!

Sign in
to get custom notifications of new products!

Featured Product
Exalted: The Comic Series - Collection
by UDON
A young boy named Kidale is anointed with the power of a reincarnated Solar Exalted and becomes the catalyst for conflict and heroism in the glittering glass city of Chiaroscuro. In a world where incredibly powerful exalts stride forth to remake Creation in their image, legends will be forged and sacrifices will be made. Exalted is action fantasy with a manga flare at its finest.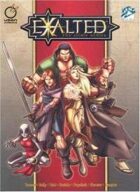 | Products found in this section... | Sort by: |
| --- | --- |
| | | |
| --- | --- | --- |
| Title | Publisher | Price |
| Once a year, the time of Calibration steals the lights from the night sky and weakens the barriers between Creation and otherworldly realms. Monsters and creatures from every hidden corner emerge to claim it all for their own in the eerie, timeless dark. For five days and nights, the world remembers how it once was, when it was newly forged from chaos and humanity was not yet a scrap of thought in... [click here for more] | Onyx Path Publishing | $24.99 |
| Centuries ago, the tumultuous Dragon-Blooded Shogunate ruled much of the known world. Its glory and grandeur fell into ashes amid the Great Contagion, but today new empires blaze high from its embers. Haughty Dynasts feasting amid the stolen treasures of the Threshold; proud Seventh Legion officers clad in panoplies of jade; lone outcastes struggling to carve out a heroic legend at the world's edge... [click here for more] | Onyx Path Publishing | $19.99 |
| This is the tale of a forgotten age before the seas were bent, when the world was flat and floated atop a sea of chaos. This is the tale of a decadent empire raised up on the bones of the fallen Golden Age, whose splendor it faintly echoed but could not match. This is a tale of primal frontiers, of the restless dead, of jeweled cities ruled openly by spirits in defiance of Heaven's law. This is a... [click here for more] | Onyx Path Publishing | $24.99 |
| For a thousand years, the Dragon-Blooded have ruled Creation from thrones of jade, secure in their power and authority as Princes of the Earth. Through command of the elements and mastery of every martial discipline, their ruling bloodlines exercise dominion over the wealth and armies of the world. Now, in this time of tumult, their hegemony is challenged by breakaway states, monsters from world's... [click here for more] | Onyx Path Publishing | $19.99 |
| From the chaos of the Dragon-Blooded Shogunate's collapse arose the Scarlet Empress, hero-tyrant and founder of the Realm. In the centuries since her ascendancy, the Scarlet Realm has become Creation's foremost imperial power. Kingdoms and city-states across Creation look toward the Blessed Isle at the world's center and bow in submission to the authority of the Scarlet Throne, the might of the Imperial... [click here for more] | Onyx Path Publishing | $14.99 |
| This is the tale of a forgotten age before the seas were bent, when the world was flat and floated atop a sea of chaos. This is the tale of a decadent empire raised up on the bones of the fallen Golden Age, whose splendor it faintly echoed but could not match. This is a tale of primal frontiers, of the restless dead, of jeweled cities ruled openly by spirits in defiance of Heaven's law. This is a... [click here for more] | Onyx Path Publishing | $1.99 |
| Dreams of the Second Age includes inspiring soundtrack themes inspired by the adventure, locations, and beings of the world of Exalted 3rd Edition, and can be played to set the tone as you adventure through Creation in your games or are seeking inspiration for new stories. This soundtrack was made possible by the backers of the Exalted 3rd Edition... [click here for more] | Onyx Path Publishing | $4.99 |
| Once, in the time before the gods forgot their names, when the world was flat and floated on a sea of chaos, there was an age of gleaming cities, untamed wilderness, enlightened devils, greedy spirits, and mighty heroes. This was the age of the Exalted, champions empowered by the highest of gods. Tomb of Dreams will jumpstart your group's Exalted game—all you... [click here for more] | Onyx Path Publishing | $1.99 |
| Take up the panoply of legendary heroes and lost ages, and awaken the world-shaking might of their Evocations. Before the dawn of time, the Exalted wielded god-metal blades to cast down the makers of the universe. In an ancient epoch of forgotten glories, Creationís greatest artificers forged unimaginable wonders and miracle-machines. Now, in the Age of Sorrows, kingdoms go to war over potent artifacts,... [click here for more] | Onyx Path Publishing | $14.99 |
| Shapeshifters, monster-heroes, divine apex predators — the Lunar Exalted are all these and more. Once they reigned over the First Age alongside the Solars, but in this fallen era, ten thousand Dragon-Blooded sit upon Creation's stolen throne. The Lunars of the Silver Pact wage war against the Realm, stemming the tide of its imperialist expansion and bleeding away its strength.... [click here for more] | Onyx Path Publishing | $19.99 |
| Novia Claro made him up to cover her own tracks while she investigates the murders of Hushanti's priests in Nexus. He's a convenient ruse, a rumor to spark the people's imaginations, distract them from her actions, and nothing more... until the day he bursts forth from the river and offers Novia his help. Now he's hunted by several Dragon-Blooded, and Novia has to figure out whether she can trust... [click here for more] | Onyx Path Publishing | $2.99 |
| From the bustling streets of Nexus to the savage western seas, Creation is ripe with threats to mortals and Chosen alike. Crooked traders, vile occultists, and even zealous protectors of the Realm can be found in every city, satrapy, and region waiting for unsuspecting targets or standing their ground as they prepare for the inevitable. In this collection you will meet new foes, encounter old enemies,... [click here for more] | Onyx Path Publishing | $1.99 |
| The Exalted 3rd Edition map retains the elemental character of classic Creation, but is significantly larger and features new frontiers to discover and fight for. The digital edition is an image format useful in Virtual Tabletop or as a wallpaper image. The print edition is a 12x18 paper stock mini-poster. Also available now for Exalted: Exalted: Tale of the Visiting Flare - The... [click here for more] | Onyx Path Publishing | $0.99 |
| From the bustling streets of Nexus to the savage western seas, Creation is ripe with threats to mortals and Chosen alike. Crooked traders, vile occultists, and even zealous protectors of the Realm can be found in every city, satrapy, and region waiting for unsuspecting targets or standing their ground as they prepare for the inevitable. In this collection you will meet new foes, encounter old enemies,... [click here for more] | Onyx Path Publishing | $1.99 |
| From the frozen North to the burning South, and all directions in between, there are creatures that stalk Creation. Demons, spirits, monsters and even creatures who live alongside mankind are in every region. In this collection you will find new foes, encounter old enemies, and learn the secrets of these denizens of Exalted 3rd Edition's wondrous world. Hundred Devils Night Parade: Haloed Husk Sometimes,... [click here for more] | Onyx Path Publishing | $1.99 |
| From the frozen North to the burning South, and all directions in between, there are creatures that stalk Creation. Demons, spirits, monsters and even creatures who live alongside mankind are in every region. In this collection you will find new foes, encounter old enemies, and learn the secrets of these denizens of Exalted 3rd Edition's wondrous world. Hundred Devils Night Parade: Makarios, the... [click here for more] | Onyx Path Publishing | $1.99 |
| Shapeshifters, monster-heroes, divine apex predators — the Lunar Exalted are all these and more. Once they reigned over the First Age alongside the Solars, but in this fallen era, ten thousand Dragon-Blooded sit upon Creation's stolen throne. The Lunars of the Silver Pact wage war against the Realm, stemming the tide of its imperialist expansion and bleeding away its strength.... [click here for more] | Onyx Path Publishing | $2.99 |
| "Decea bore the gifts and markings of the Elemental Dragon of Air, and clarity was her birthright. She stopped imposing forms on the clouds of her mind, and allowed her thoughts to wander, that she might better see the true shape of the world." When the Dragon-Blood Decea finds herself fiunexpectedly in the small fishing village of Elknell, she quickly realizes something is amiss... [click here for more] | Onyx Path Publishing | $2.99 |
| From the bustling streets of Nexus to the savage western seas, Creation is ripe with threats to mortals and Chosen alike. Crooked traders, vile occultists, and even zealous protectors of the Realm can be found in every city, satrapy, and region waiting for unsuspecting targets or standing their ground as they prepare for the inevitable. In this collection you will meet new foes, encounter old enemies,... [click here for more] | Onyx Path Publishing | $1.99 |
| From the frozen North to the burning South, and all directions in between, there are creatures that stalk Creation. Demons, spirits, monsters and even creatures who live alongside mankind are in every region. In this collection you will find new foes, encounter old enemies, and learn the secrets of these denizens of Exalted 3rd Edition's wondrous world. Hundred Devils Night Parade: Sky Titan and... [click here for more] | Onyx Path Publishing | $1.99 |
| From the frozen North to the burning South, and all directions in between, there are creatures that stalk Creation. Demons, spirits, monsters and even creatures who live alongside mankind are in every region. In this collection you will find new foes, encounter old enemies, and learn the secrets of these denizens of Exalted 3rd Edition's wondrous world. Hundred Devils Night Parade: Heartflame and... [click here for more] | Onyx Path Publishing | $1.99 |
| From the bustling streets of Nexus to the savage western seas, Creation is ripe with threats to mortals and Chosen alike. Crooked traders, vile occultists, and even zealous protectors of the Realm can be found in every city, satrapy, and region waiting for unsuspecting targets or standing their ground as they prepare for the inevitable. In this collection you will meet new foes, encounter old enemies,... [click here for more] | Onyx Path Publishing | $1.99 |
| From the frozen North to the burning South, and all directions in between, there are creatures that stalk Creation. Demons, spirits, monsters and even creatures who live alongside mankind are in every region. In this collection you will find new foes, encounter old enemies, and learn the secrets of these denizens of Exalted 3rd Edition's wondrous world. Hundred Devils Night Parade: Gravehound and... [click here for more] | Onyx Path Publishing | $1.99 |
| From the frozen North to the burning South, and all directions in between, there are creatures that stalk Creation. Demons, spirits, monsters and even creatures who live alongside mankind are in every region. In this collection you will find new foes, encounter old enemies, and learn the secrets of these denizens of Exalted 3rd Edition's wondrous world. Hundred Devils Night Parade: Austrech... [click here for more] | Onyx Path Publishing | $1.99 |
| From the frozen North to the burning South, and all directions in between, there are creatures that stalk Creation. Demons, spirits, monsters and even creatures who live alongside mankind are in every region. In this collection you will find new foes, encounter old enemies, and learn the secrets of these denizens of Exalted 3rd Edition's wondrous world. Hundred Devils Night Parade: Forlorn Manor... [click here for more] | Onyx Path Publishing | $1.99 |
| From the bustling streets of Nexus to the savage western seas, Creation is ripe with threats to mortals and Chosen alike. Crooked traders, vile occultists, and even zealous protectors of the Realm can be found in every city, satrapy, and region waiting for unsuspecting targets or standing their ground as they prepare for the inevitable. In this collection you will meet new foes, encounter old enemies,... [click here for more] | Onyx Path Publishing | $1.99 |
| From the bustling streets of Nexus to the savage western seas, Creation is ripe with threats to mortals and Chosen alike. Crooked traders, vile occultists, and even zealous protectors of the Realm can be found in every city, satrapy, and region waiting for unsuspecting targets or standing their ground as they prepare for the inevitable. In this collection you will meet new foes,... [click here for more] | Onyx Path Publishing | $1.99 |
| From the bustling streets of Nexus to the savage western seas, Creation is ripe with threats to mortals and Chosen alike. Crooked traders, vile occultists, and even zealous protectors of the Realm can be found in every city, satrapy, and region waiting for unsuspecting targets or standing their ground as they prepare for the inevitable. In this collection you will meet new foes, encounter old enemies,... [click here for more] | Onyx Path Publishing | $0.99 |
| From the frozen North to the burning South, and all directions in between, there are creatures that stalk Creation. Demons, spirits, monsters and even creatures who live alongside mankind are in every region. In this collection you will find new foes, encounter old enemies, and learn the secrets of these denizens of Exalted 3rd Edition's wondrous world. Hundred Devils Night Parade: Aurochs and... [click here for more] | Onyx Path Publishing | $1.99 |
| From the bustling streets of Nexus to the savage western seas, Creation is ripe with threats to mortals and Chosen alike. Crooked traders, vile occultists, and even zealous protectors of the Realm can be found in every city, satrapy, and region waiting for unsuspecting targets or standing their ground as they prepare for the inevitable. In this collection you will meet new foes, encounter old enemies,... [click here for more] | Onyx Path Publishing | $1.99 |
| From the bustling streets of Nexus to the savage western seas, Creation is ripe with threats to mortals and Chosen alike. Crooked traders, vile occultists, and even zealous protectors of the Realm can be found in every city, satrapy, and region waiting for unsuspecting targets or standing their ground as they prepare for the inevitable. In this collection you will meet new foes, encounter old enemies,... [click here for more] | Onyx Path Publishing | $1.99 |
| From the bustling streets of Nexus to the savage western seas, Creation is ripe with threats to mortals and Chosen alike. Crooked traders, vile occultists, and even zealous protectors of the Realm can be found in every city, satrapy, and region waiting for unsuspecting targets or standing their ground as they prepare for the inevitable. In this collection you will meet new foes, encounter old enemies,... [click here for more] | Onyx Path Publishing | $1.99 |
| From the frozen North to the burning South, and all directions in between, there are creatures that stalk Creation. Demons, spirits, monsters and even creatures who live alongside mankind are in every region. In this collection you will find new foes, encounter old enemies, and learn the secrets of these denizens of Exalted 3rd Edition's wondrous world. Hundred Devils Night Parade: Black Hollow... [click here for more] | Onyx Path Publishing | $1.99 |
| From the bustling streets of Nexus to the savage western seas, Creation is ripe with threats to mortals and Chosen alike. Crooked traders, vile occultists, and even zealous protectors of the Realm can be found in every city, satrapy, and region waiting for unsuspecting targets or standing their ground as they prepare for the inevitable. In this collection you will meet new foes, encounter old enemies,... [click here for more] | Onyx Path Publishing | $1.99 |
| From the frozen North to the burning South, and all directions in between, there are creatures that stalk Creation. Demons, spirits, monsters and even creatures who live alongside mankind are in every region. In this collection you will find new foes, encounter old enemies, and learn the secrets of these denizens of Exalted 3rd Edition's wondrous world. Hundred Devils Night Parade: Flickerfeather... [click here for more] | Onyx Path Publishing | $1.99 |
| Shapeshifters, monster-heroes, divine apex predators — the Lunar Exalted are all these and more. Once they reigned over the First Age alongside the Solars, but in this fallen era, ten thousand Dragon-Blooded sit upon Creation's stolen throne. The Lunars of the Silver Pact wage war against the Realm, stemming the tide of its imperialist expansion and bleeding away its strength.... [click here for more] | Onyx Path Publishing | $1.99 |
| From the frozen North to the burning South, and all directions in between, there are creatures that stalk Creation. Demons, spirits, monsters and even creatures who live alongside mankind are in every region. In this collection you will find new foes, encounter old enemies, and learn the secrets of these denizens of Exalted 3rd Edition's wondrous world. Hundred Devils Night Parade: White Robe An... [click here for more] | Onyx Path Publishing | $1.99 |
| From the bustling streets of Nexus to the savage western seas, Creation is ripe with threats to mortals and Chosen alike. Crooked traders, vile occultists, and even zealous protectors of the Realm can be found in every city, satrapy, and region waiting for unsuspecting targets or standing their ground as they prepare for the inevitable. In this collection you will meet new foes, encounter old enemies,... [click here for more] | Onyx Path Publishing | $1.99 |
| From the bustling streets of Nexus to the savage western seas, Creation is ripe with threats to mortals and Chosen alike. Crooked traders, vile occultists, and even zealous protectors of the Realm can be found in every city, satrapy, and region waiting for unsuspecting targets or standing their ground as they prepare for the inevitable. In this collection you will meet new foes, encounter old enemies,... [click here for more] | Onyx Path Publishing | $1.99 |
| From the frozen North to the burning South, and all directions in between, there are creatures that stalk Creation. Demons, spirits, monsters and even creatures who live alongside mankind are in every region. In this collection you will find new foes, encounter old enemies, and learn the secrets of these denizens of Exalted 3rd Edition's wondrous world. Hundred Devils Night Parade: Lodestar and... [click here for more] | Onyx Path Publishing | $1.99 |
| From the frozen North to the burning South, and all directions in between, there are creatures that stalk Creation. Demons, spirits, monsters and even creatures who live alongside mankind are in every region. In this collection you will find new foes, encounter old enemies, and learn the secrets of these denizens of Exalted 3rd Edition's wondrous world. Hundred Devils Night Parade: Barrow Hound and... [click here for more] | Onyx Path Publishing | $1.99 |
| From the frozen North to the burning South, and all directions in between, there are creatures that stalk Creation. Demons, spirits, monsters and even creatures who live alongside mankind are in every region. In this collection you will find new foes, encounter old enemies, and learn the secrets of these denizens of Exalted 3rd Edition's wondrous world. Hundred Devils Night Parade: Aughdeighe... [click here for more] | Onyx Path Publishing | $1.99 |
| From the bustling streets of Nexus to the savage western seas, Creation is ripe with threats to mortals and Chosen alike. Crooked traders, vile occultists, and even zealous protectors of the Realm can be found in every city, satrapy, and region waiting for unsuspecting targets or standing their ground as they prepare for the inevitable. In this collection you will meet new foes, encounter old enemies,... [click here for more] | Onyx Path Publishing | $0.99 |
| From the bustling streets of Nexus to the savage western seas, Creation is ripe with threats to mortals and Chosen alike. Crooked traders, vile occultists, and even zealous protectors of the Realm can be found in every city, satrapy, and region waiting for unsuspecting targets or standing their ground as they prepare for the inevitable. In this collection you will meet new foes, encounter old enemies,... [click here for more] | Onyx Path Publishing | $1.99 |
| From the frozen North to the burning South, and all directions in between, there are creatures that stalk Creation. Demons, spirits, monsters and even creatures who live alongside mankind are in every region. In this collection you will find new foes, encounter old enemies, and learn the secrets of these denizens of Exalted 3rd Edition's wondrous world. Hundred Devils Night Parade: Eight Tailed... [click here for more] | Onyx Path Publishing | $1.99 |
| This is the tale of a forgotten age before the seas were bent, when the world was flat and floated atop a sea of chaos. This is the tale of a decadent empire raised up on the bones of the fallen Golden Age, whose splendor it faintly echoed but could not match. This is a tale of primal frontiers, of the restless dead, of jeweled cities ruled openly by spirits in defiance of Heaven's law. This is a... [click here for more] | Onyx Path Publishing | $0.99 |
| From the frozen North to the burning South, and all directions in between, there are creatures that stalk Creation. Demons, spirits, monsters and even creatures who live alongside mankind are in every region. In this collection you will find new foes, encounter old enemies, and learn the secrets of these denizens of Exalted 3rd Edition's wondrous world. Hundred Devils Night Parade: Aughdeighe... [click here for more] | Onyx Path Publishing | $1.99 |
| For a thousand years, the Dragon-Blooded have ruled Creation from thrones of jade, secure in their power and authority as Princes of the Earth. Through command of the elements and mastery of every martial discipline, their ruling bloodlines exercise dominion over the wealth and armies of the world. Now, in this time of tumult, their hegemony is challenged by breakaway states, monsters from world's... [click here for more] | Onyx Path Publishing | $1.99 |
| Fanfare for the Chosen includes inspiring soundtrack themes for each of the ten types of Exalted (Solars, Lunars, Sidereals, Dragon Bloodeds, Abyssals, Exigents, Getiminans, Liminals, Infernals, Alchemicals), to set the tone as you encounter these Exalted in your games or are seeking inspiration for new stories. About the composer: James Semple is a composer for... [click here for more] | Onyx Path Publishing | $4.99 |
| From the bustling streets of Nexus to the savage western seas, Creation is ripe with threats to mortals and Chosen alike. Crooked traders, vile occultists, and even zealous protectors of the Realm can be found in every city, satrapy, and region waiting for unsuspecting targets or standing their ground as they prepare for the inevitable. In this collection you will meet new foes, encounter old enemies,... [click here for more] | Onyx Path Publishing | $1.99 |