Follow Your Favorites!

Sign in
to get custom notifications of new products!

Featured Product
Darkened Streets
by White Wolf
Vagabond mages and Technocratic minions. Roadhouse kin and Wyrm-tainted Garou. Anarch Archons and Kindred smuggling crews. Plus the return of a beloved Lasombra from times past. They're all here in this Year of the Road exclusive anthology featuring the best the World of Darkness has to offer!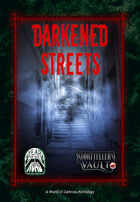 | Products found in this section... | Sort by: |
| --- | --- |
| | | |
| --- | --- | --- |
| Title ▲ | Publisher | Price |
| Skadan är snart gjord... En tumme spräcker ett öga medan en girig tunga slickar i sig blod. Ett par ord förstör ett liv. Något rör sig i mörkret med kallt hat i hjärtat. Ett avtal sluts mellan en levande och en död kvinna. En vänskap upprätthålls år efter oräkneligt år. Blod skuras klumpigt bort från en vägg med hjälp av klorin och en toaborste. ...men sent... [click here for more] | White Wolf | FREE |
| Aventura e plot para Vampiro a Máscara. Se se passa em Berlim, na Alemanha, em um cenário atual. A aventura inicia em um cenário que todos os Ventrues da Camarila na cidade foram mortos, acredita-se que foi um ataque do Sabá. Para tentar controlar isso, com justificativa de manter a ordem, foi decretado que o primogênito de cada clã da Camarila deverá ter bloodbound com os conselheiros do... [click here for more] | White Wolf | $1.00 |
| Vagabond mages and Technocratic minions. Roadhouse kin and Wyrm-tainted Garou. Anarch Archons and Kindred smuggling crews. Plus the return of a beloved Lasombra from times past. They're all here in this Year of the Road exclusive anthology featuring the best the World of Darkness has to offer! Featuring stories of the road from WoD favorites and newcomers alike, including Brandon Steward, Aaron Rosenberg,... [click here for more] | White Wolf | $5.99 |
| Campaign and storyline for Vampire the Masquerade. It takes place in Berlin, Germany, in a current scenario. The adventure begins in a scenario where all the Ventrues of Camarila in the city were killed, it is believed that it was a Sabbat attack. To try to control this, with the justification of maintaining order, it was decreed that the firstborn of each clan in the Camarilla must have bloodbound... [click here for more] | White Wolf | $1.00 |
| Jade Cricket is a Solar on the run — from the Empire of Prasad, from her tumultuous past, even from fate itself. When a pack of Lunars dedicated to sabotaging the Wyld Hunt rescues her from an untimely execution, Cricket takes the chance to start a new life on her own terms. But with an obsessive scion of Clan Ophris determined to capture her, a bizarre plague crippling towns along the northwest... [click here for more] | White Wolf | $4.99 |
| This novella tells the TRUE story of Goratrix, his abiding lust for his lover and master, Tremere, and the foundation of House and Clan Tremere.  "Warning: This book contains adult content, and a sex-focused take on Tremere high ritual, including a graphic look at the creation of the clan, the creation of thaumaturgy,  and the creation, and seduction, of the first Gargoyle.  This should not be... [click here for more] | White Wolf | Pay What You Want |
| This novella is a tell-all exposé of the romantic tryst between Scooter, Sabbat Malkavian Antitribu, and Maxwell Edison, Primogen of Clan Tremere of Buffalo, New York. Their illicit relationship is, for the first time, made public, as well as their flagrant defiance of social norm and Camarilla tradition as they thumb their noses at high society and the traditions of the Camarilla. -Rex Antilles,... [click here for more] | White Wolf | Pay What You Want |